Do it better
The Simple Way to Handle Feedback & Complaints in
Aged Care
Listen to consumers and give staff and management tools to:
| | |
| --- | --- |
| | Comply – Regulatory compliance made easy; |
| | Communicate – Engage consumers and their families; and |
| | Care – Demonstrate you really care about each other. |
The result is better and more efficient care, increased demand, big cost savings, and low-stress compliance of regulations.
The Time Is Now
20th Century
Paper-based feedback
21st Century
Full digital solution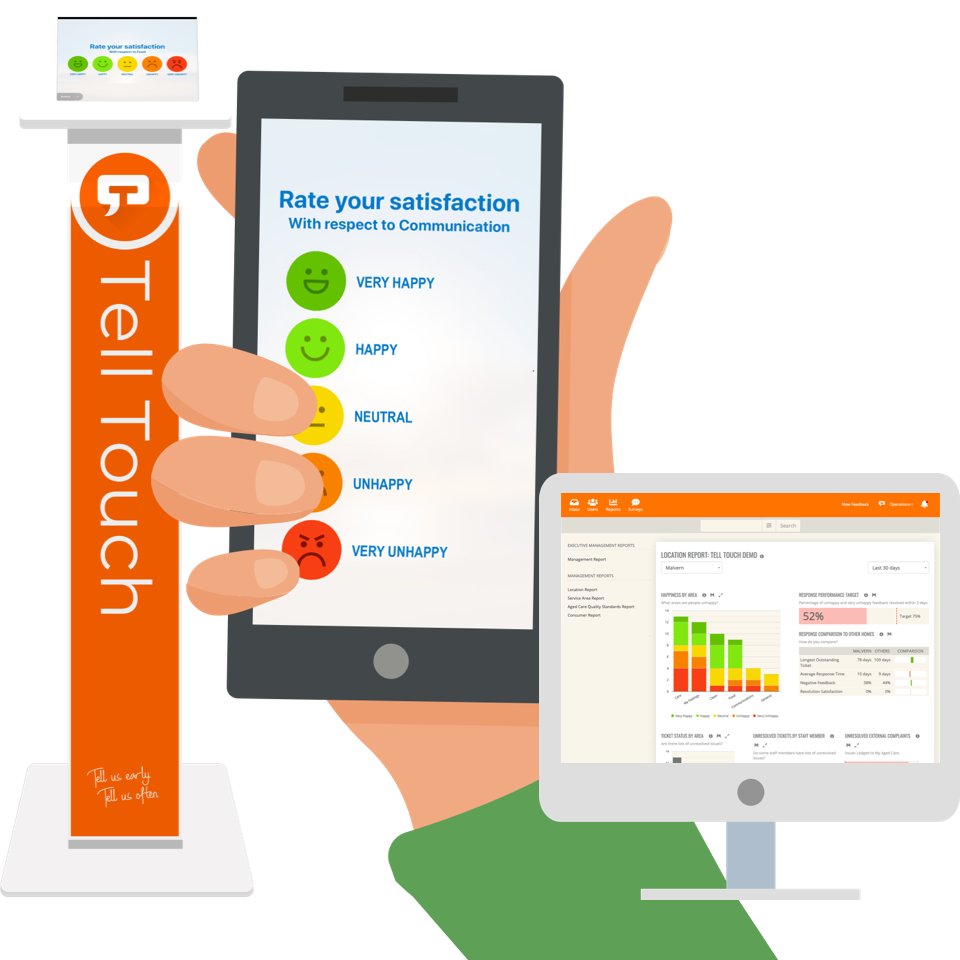 Why Now?
Wanting to give consumers a voice, dismayed by the time taken to deal with consumer issues, and concerned with the lack of transparency for executive management, we came up with Tell Touch. Tell Touch combines the latest technology with in-depth knowledge of what's really needed in Aged Care. The Royal Commission into Aged Care bears testament to the need.
New Regulations
Homes
must

report abuse

Here are some of the new requirements:
Managers must report Feedback and Complaints that include allegation, suspicion, or witness account of abuse and neglect.
Managers must report some serious incidents to ACQSC within 24 hours. If an incident occurs over the weekend, they can't just open the Feedback and Complaints box at 9am on Monday morning.
There must be live documented evidence of all actions taken in response to actual or suspected abuse and neglect.
Managers and staff face fines of up to $111,000 for non-compliance of the new rules.
$
10

Fee Supplement Reporting

The Federal Government's new basic daily fee supplement, an extra $10 per day per resident, is now available to aged care providers. One of the requirements is a detailed quarterly report. Tell Touch's validated solution helps you generate a required "Quality and Adequacy" report.

Contact us for more a demo.
e

a

s

y

SIRS compliance

If your feedback and complaints system isn't checked multiple times every single day and your staff aren't thoroughly trained, you can miss incidents. With Tell Touch you can't.

Managers are notified by SMS when staff report an incident. This gives managers time to report it within 24 hours as mandated by the Serious Incident Notifications Scheme.
Unparalleled Industry Experience
We're experienced Aged Care nurses and managers. Collectively, we've worked in aged care for over 40 years and in over 100 aged care homes. Tell Touch has been designed for aged care by aged carers. It's a huge leap forward in the handling of feedback in aged care.

Christine Brodrick
Co-Founder

Diana Cooper
Co-Founder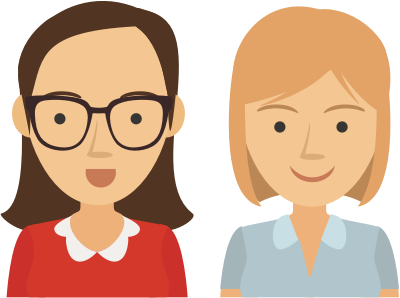 Advantages of an Aged Care & Disability Care Specific System
Tell Touch is specifically designed for aged care and disability care, not adapted from retail. Advantages include:
Simple to lodge feedback at a kiosk or remotely from a mobile app.
Systemises feedback to ensure issues don't escalate.
Available in 40+ languages.
Allows management to rate feedback performance against standards (e.g. the Aged Care Quality Standards).
"

Tell Touch is an integral component of any consumer directed care model"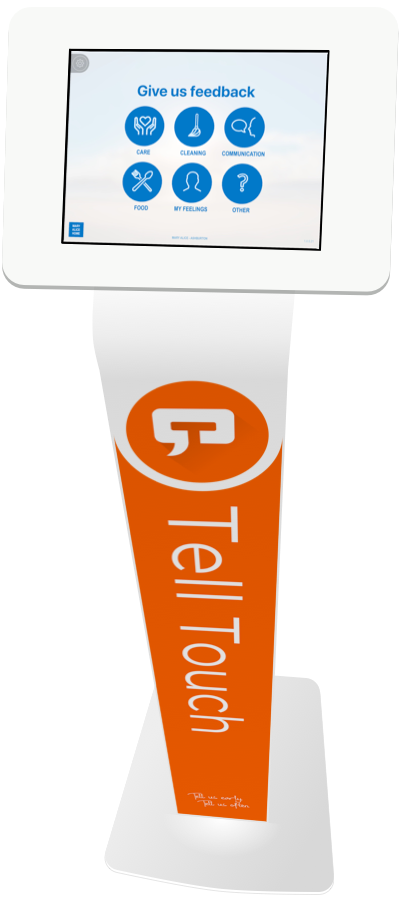 Comply
Meet ACQSC's new requirements for mandatory reporting. Now includes SIRS Management Notifications.

New

Ensure reporting systems and open disclosure principles meet the Aged Care Quality Standards.
Communicate
24/7 access anywhere. Families can download the app.

Available in 40+ languages.

Executive management visibility. All correspondence documented.

Measure resolution satisfaction.
Care
Leads to happier consumer & staff.

Fosters better relationships.

Results in more content environment for staff, consumers and family.
70% of feedback is submitted by family. Even so, Tell Touch is ...
So easy a
93-year-old
can do it
(We tested it on 'em)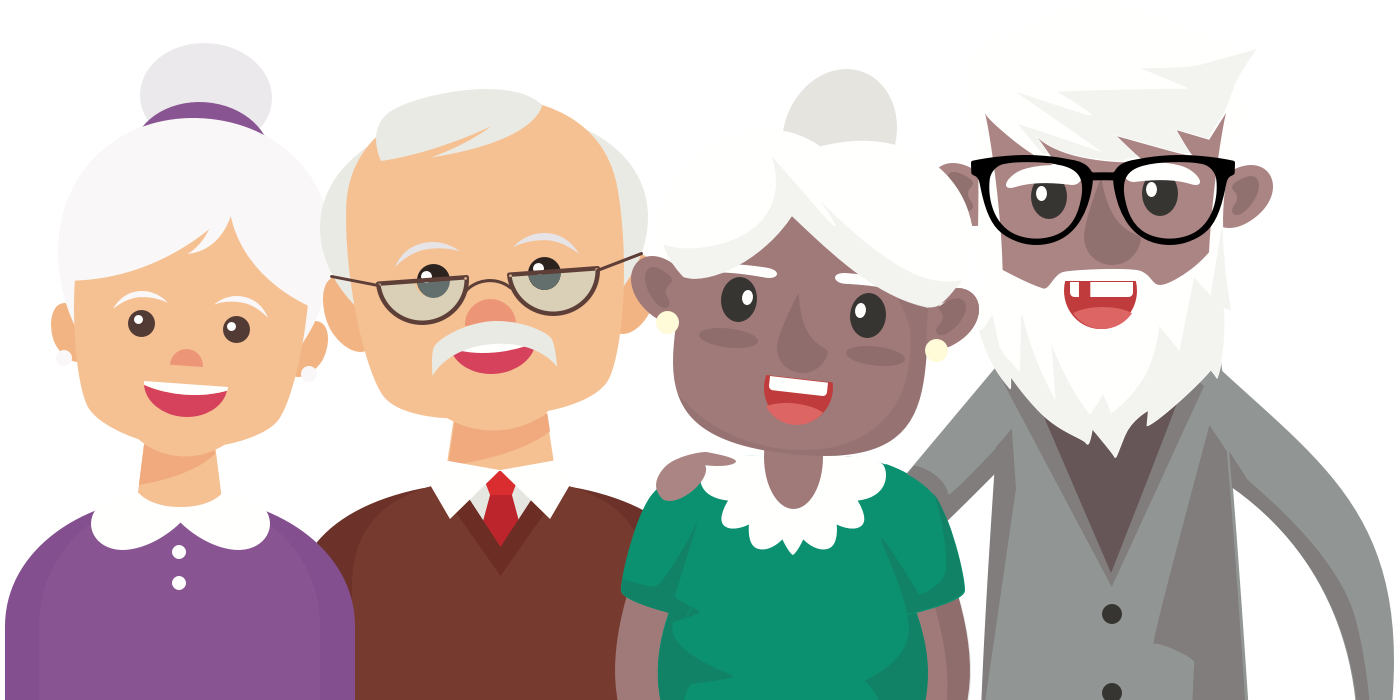 The Only way to handle feedback & complaints
Comply with the
Aged Care Quality Standards
Tell Touch makes it easier to measure the aged care services performance against the Aged Care Quality Standards. Ensure reporting systems and open disclosure principles meet the requirements.
Government Grants

Now

Available
The Department of health and the Commonwealth Home Support Programme (CHSP) are providing grants (GO4265) to "address gaps in service delivery and trial and implement new and innovative service delivery models". A number of our customers have successfully funded Tell Touch through the grant. Contact us to find out more.
$120,000
is the amount the Average Home Can Add to
it's bottom line by implementing Tell Touch
Becoming more consumer oriented isn't only the right thing to do for consumers, but it'll massively help your profitability and reduce risks of compliance costs. More info
$2.8m
is the costs of a facility being
sanctioned under the Aged Care Act
Comparing the financial results of the years before and after a home is sanctioned, it suggests that the immediate financial impact is in the order of $2,800,000. — Source: Pride Living Group
Catch Issues before they get to the commission
Tackle issues before they fester. Anecdotally, the reporting of almost all issues to the Aged Care Quality and Safety Commission could have been averted if there was better communication and it was addressed earlier.
"

Across private industries, successful projects for optimizing the customer experience typically achieve revenue growth of 5 to 10 per cent and achieve cost reductions of 15 to 25 per cent within just two or three years."
Testimonials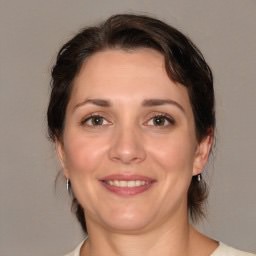 "

We see [Tell Touch] as being a much more proactive approach than scheduled satisfaction survey's which only captures a-moment-in-time. From a governance perspective, the Tell Touch system provides us with reports that allows us to monitor our performance, support compliance and address emerging issues quickly."
JL, CEO

An Aged care facility in regional Victoria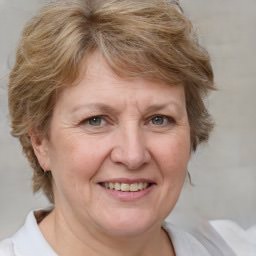 "

Our consumers and their representatives are as thrilled as we are to be able to respond to their feedback promptly. [Tell Touch has] developed a system which is simple-to-use, easy-to-access and with high level reporting capabilities. We have certainly moved out of the 20th century paper-based system into the digital world of the 21st century. Thank you."
LD, Operations Manager

A multi-site Aged Care provider in Victoria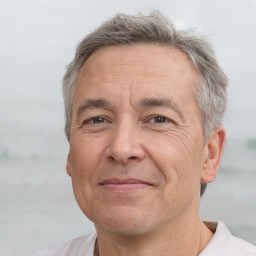 "

No other system can do what you have done! They use to say cash is king but in aged care Information is king and Tell Touch provides this. The process is easy to complete. There's no wasted time, no paperwork and it's fully compliant."
MSS, Executive Manager

A residential Aged Care home in WA
Note, photos are stock photos, not those of the person giving the testimonial. The testimonial are real!